In this post, we are going to show you how to earn money online in the UK by using our own two-pronged approach that will get you earning online TODAY.
There are now over 3.5 billion people connected to the internet and more and more business is being carried out online. This creates a huge marketplace and a wealth of opportunities for you to earn money online.
This post pulls together some of our favourite ways to make money online and will show you a strategy to take you from nothing to having a sustainable online income that is location independent.
Whether you dream of travelling the world, want a bit of extra cash each month or are looking to ditch the 9-5 and daily commute; an online income can help you achieve your goals.
This post is a practical step by step guide to earning online which will take you from making your first money online to showing you how to develop and grow this into a part-time or full-time income.
If you follow these steps there is no reason why you shouldn't be able to join the growing numbers of people that are enjoying the financial freedom that an online income can provide.
This isn't a get rich quick scheme, will require hard work on your part, and it will take some time. But it is a financial plan that anyone can follow to achieve the level of online income that they desire.
How to Grow Your Online Business: A Two-Pronged Approach to Making Money Online
So you have decided that you want to create an online income? Great decision!
You are in the right place and it is time to get to work creating a steady second income and eventually a full-time income.
In this blueprint for success, we are going to introduce you to what we think is the best way to establish an online business. Our approach will give you both an instant online income and show you a way to build a profitable and valuable online asset for the long term.
Earn Money Online Fast: Matched Betting
If you are based in the UK or Ireland we think the absolute best way to rapidly grow your available capital is through matched betting.
This is a no-risk, tax-free way to earn money INSTANTLY. There are no other ways to earn money so quickly online.
If you are keen to earn money fast then sign up for a free trial at Oddsmonkey and you will be around £45 richer for an hours work. Not a bad way to start your online earning adventure!
Don't be put off by the terminology, there is no gambling involved in matched betting and this is a risk-free way to earn thousands of pounds in a couple of months. It has become a popular way to earn money fast and has been featured by the likes of The Guardian
You can start with as little as £10 and can expect to grow this to around £800 over three months.
But, if you are able to invest more money upfront then you can speed up this process and earn over a thousand in the first month. The more money you can put in the faster you can earn, the money you put in is not at risk and you are able to retrieve it quickly should you need.
What is even better is that this income is tax-free so you get to keep 100% of your earnings and don't have to worry about filling in any tax forms.
We have this down as a starting point on your journey to online riches, earning money that can be reinvested into other projects and sustain you while you grow other businesses.
Alternatively, you could choose to become one of the many people who matched bet full time and earn several thousand a month. A quick scan of the monthly profit forum on Oddsmonkey shows several people claiming to have earned £5000 this month and figures over £1000 are commonplace.
These kind of profits are achievable but we think that if you are working on this part-time for a few hours in the evenings and weekends then you should expect to be able to make around £800 per month. Earnings relate to how many offers you do, so the more time you put in, the more you will earn.

What is Matched Betting? How Does it Work?
Matched betting takes advantage of the sign-up bonuses and weekly offers that bookmakers offer to entice new customers and promote loyalty in existing customers. Common offers involve receiving a free bet when you place a normal bet, for example, 'Bet £5 get a £20 Free Bet'.
By matching this bet with the opposite outcome on a betting exchange such as Betfair or Smarkets, it is possible to earn around 80% of the free bet value in cash.
So for the example offer above we would earn a profit of around £16 for an initial investment of £10; an impressive 60% Return on Investment (ROI). Remember that this is tax-free income.
How to get started? Earn £45 in the next hour: FREE!
For many years the hard part of matched betting was finding close matches between the bookmaker and the exchange.
Oddsmonkey has completely removed this difficulty and will show you the best matches instantly.
They will find you the best matches through their odds matching software, provide all the calculators you need to place your bets correctly, tell you about new daily offers, provide training and offer support through a community of experienced matched bettors on their forums.
Oddsmonkey offer a free trial that will earn you around £45. They have all the tools and tutorials that you need to start earning real money online and get an idea what matched betting is all about.
We recommend signing up as a premium member as soon as you decide that this is something that you want to carry on with (hint: you really should!).
For a low monthly fee, you gain access to the full array of tools and offers that the site has. This will give you access to hundreds of further sign up offers that will earn you thousands, along with daily reload offers that can provide a steady stream of income
Matched betting is a key component of our two-pronged approach to online earning as it provides the instant income that can drive forward your other income streams.
We think the £17.99 monthly fee is one of the best investments that you could make to start your online income. It is both a money earner and massive time saver and we think it is key to growing your online business in other directions.
Oddsmonkey will save many hours of your valuable time and the fee itself will be repaid by the first couple of offers that you take up each month. They currently have a deal with Smarkets that will get you 0% commission on all your lay bets (instead of the standard 2% for non-members).
This alone is worth the subscription fee if you are serious about growing your online income in this way. Matched betting should give you a monthly income in the hundreds or even thousands.
Use some of this money to follow the second approach outlined below and this will grow into a 4-5 figure monthly passive income.
>>> Click here to start your free trial at Oddsmonkey

Add Another String to Your Bow. Diversify Your Income
Once you get the hang of matched betting you should be in a position where you have earned some money online and are making a regular side income. Now is the time to start looking at other options to expand your online business.
If you are taking this seriously and hope to develop a significant extra income or full-time income this is the point where it is worth thinking about your long term strategy and investing in the tools and education that can get you there fast.
There are no shortcuts and the programme outlined below will require hard work on your part, but the rewards can be immense. This is 2020 and you can start a million-dollar business from your home or hotel bedroom, you don't need a fancy suit, just an internet connection, hard work and dedication.
>>> Click here to get started (FOR FREE)
The 2nd Prong: Affiliate Marketing
Matched betting is great and you should now be earning at least a few hundred every month – keep it up! The only downside to matched betting is that you are not creating an asset, you are effectively exchanging your time for cash as with a normal job.
It is very flexible and has an enviable hourly rate (and tax-free!) but is not truly sustainable as you are reliant on the bookmakers continuing with their offers (they need to attract and keep customers, so they probably will do offers, but they may not be as good), and you have to hope that your best accounts don't get restricted (unfortunately they probably will be eventually).
This is why we advocate diversifying your online income streams. This blueprint for success will show you our recommended route to establishing an online presence through starting your own blog or niche affiliate website.
With the second prong of our blueprint for success, we will be building a website with the aim of earning passive income through affiliate sales.
This will give us a second source of monthly online income and will also provide the added benefit of creating an asset that has the potential to be sold for thousands.
What is an Affiliate Website?
The internet is full of websites that earn through affiliate income. The concept is a simple one. A website that promotes, reviews or recommends a product or service will receive a commission if one of their readers buys that product from the linked retailer.
For example, you will see product reviews for anything from toasters to turncoats, these will generally have an affiliate link that takes you to a retailer, often Amazon. If you choose to purchase that item from the retailer, the website that sent you there will receive a small commission.
There is no extra cost to the buyer, they will pay the same price as if they found the product directly, but you as the affiliate marketer will receive a small reward for your efforts.
The more people that you can send to the retailer the more you earn so creating a popular website that people want to read is the key to success.
>>> Start your website for free HERE
Wealthy Affiliate: Your One-Stop Shop for Success
I spent over a year investigating and experimenting with online money making ideas before I discovered Wealthy Affiliate. I had read all sort of blogs about how to create an affiliate website but never actually taken the plunge.
The way that Wealthy Affiliate creates a step by step process really helps to clarify the approach and bring all your disparate ideas together.
I am not one to pay for things unnecessarily and I usually seek free resources where I can. As there was nothing to lose, and no credit card needed, I signed up first as a free starter member to have look at what the site had to offer.
It soon became clear that WA had a lot to offer as a training programme, but you also get a whole host of other features included – in fact everything you need to run your online affiliate business.
WA offers such good value that I soon upgraded to a premium member and it has been worth every penny.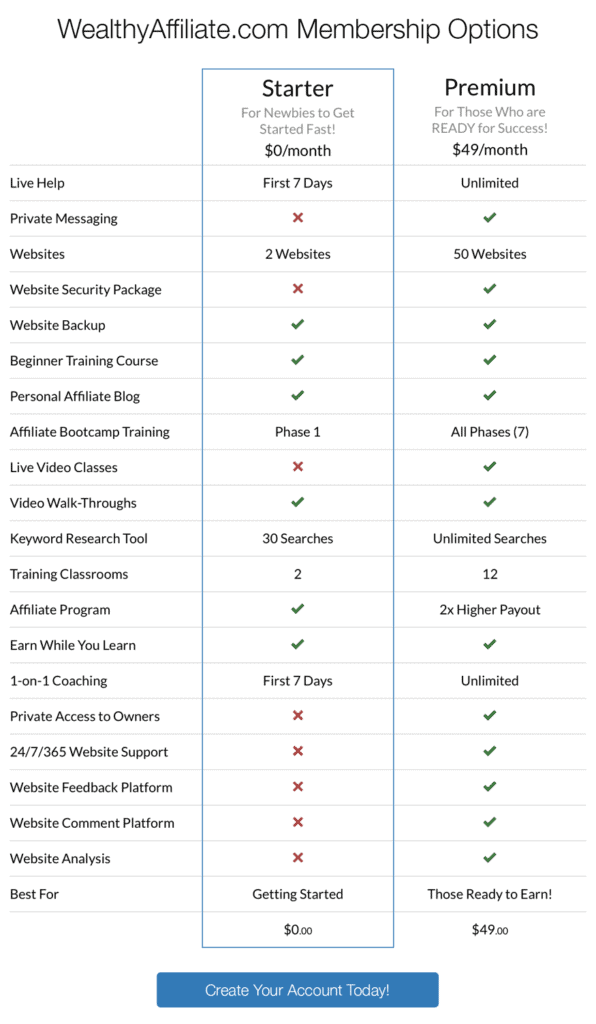 I can't think of many examples where you can set up an entire business for only $49 per month. The monthly fee is tiny in comparison to the overheads of any traditional business, and in return, you get full training and support on how to launch your affiliate business, web hosting for 50 websites (worth around $10 a month per website), keyword research tool (worth $25 a month).
Even without the training, it is a good value way to launch a website (especially multiple websites), with the training and the support of a community of thousands of experienced and successful online marketers it really does offer incredible value.
They will hold your hand as you take the first steps to create your website and begin your journey as an affiliate marketer.
They also offer a great value yearly subscription which I decided to take up both due to the cost savings and the added motivation to keep going through the first year when I expected to have little to no traffic coming to my websites.
Don't forget, you should still be matched betting to keep your online income going. In the 4 days of Royal Ascot 2018, I cleared £500 from free bets and this more than covered the Wealthy Affiliate subscription for a year (in fact it is nearly 2 years' worth).
The 3rd Prong: So Many Shiny New Skills
I know, I can year you muttering at your screen; "you said it was a two-pronged approach?"
Well, it is.
You have achieved the 3rd prong automatically if you have developed an affiliate website as recommended as the second prong.
You now know all about WordPress and how to build a website, you now know all about keywords, SEO and how to rank on Google, you now know all about how to write great copy for a website, you now know all about how to market your site through social media, you now know all about so many other things.
These are very real and valuable skills that you could now choose to monetise by selling these skills to others.
This means that you can't lose with the Wealthy Affiliate programme. Even if your first website doesn't take of as much as you had hoped, you now have the skills you need to go out and get it right the next time, or if you want the income upfront you can use the skills that you have developed to set yourself up as a freelancer in this area.
There will always be a market for these skills through sites like Upwork, iWriter and PeoplePerHour so get on there and sell your skills, after all, you know all about marketing now. Why not market your skills?
You Have Nothing to Lose and Everything to Gain
The beauty of this two pronged approach is that you keep earning through matched betting to more than cover your total business costs. This means that your overall online income keeps flowing each month.
One of the problems with growing an online affiliate business is that it can take several months of work before the money starts to come in and many people get discouraged and give up just at the point when their website starts to gain traction and rank on Google.
By having an active source of regular income and by viewing your overall income and outgoings across the 2 prongs of your online business you will feel happier that your online business is earning from the very start.
Over time the balance between the two prongs should shift as your affiliate income grows. Posts that you put on your website months ago will start to earn you passive income and the dream of a location independent business and financial freedom will start to become a reality.
Your website will gain the trust of Google and you will find that more and more of your posts reach the first page of Google. This means more traffic to your website and more potential income. It's the classic snowball effect, the more posts you have, the more traffic you get and the more income you can generate.
And do you know the best part of all this? This is PASSIVE INCOME.
Whether you are asleep, at the beach or playing with your kids, your website keeps earning 24/7. How great is that? You can wake up richer than when you went to bed, surely that is something that we can all dream of. So why not give it a try and take the chance to put More Life in Your Days.
You have nothing to lose, get started NOW!
Join Oddsmonkey for FREE and join Wealthy Affiliate for FREE
and soon you could become free to live life as you have always dreamed.