If you have found this post, I am guessing that you are looking for a way to make money online and have stumbled across Easy1up. It sounds promising, but is Easy1up worth it?
They promise that you can make big money fast. That's what everyone wants! These sorts of claims are common on the internet but can it ever be this easy to make money?
It is always worth looking into these types of products before parting with any cash and I hope that my Easy1up review will help you to learn more about this system and whether it is right for you.
So, is it legit or is Easy1up a scam? Keep reading to find out…
Easy 1Up Review: Quick Summary

Product Name: Easy 1 Up
Product Type: Multi-Level Marketing
Price: $25 to $2000
Summary: Easy1up makes out that it is easy to earn big and fast if you sign up to their system. The reality is that all they offer is some weak training and a multi-level marketing system where recruiting other people into the system is the only way for members to make money. This is definitely one to avoid.
Rating: 0/5
There is a Better Option: If you're looking for a totally legit way to make money online you should click the button below to discover how I've personally created a 4-Figure Monthly Passive Income Stream.
What is Easy 1Up?

Easy1up states that its aim is to help aspiring entrepreneurs to get 1up on their competition by following their training and learning their strategies. et
They have 5 different levels of training that come with increasing price tags from $25 all the way up to $2000 for live events. The video training covers a wide range of topics like affiliate marketing, YouTube marketing and dropshipping.
But, the real purpose of it all is to get you to recruit more people into the Easy1 Up system.
At each level, you need to purchase their training in order to be able to promote their training. The course will teach you how to promote the same system that you signed up for, to find others that are looking for an easy way to make money online.
If you can recruit enough other people to sign up for the course then you will make some easy money and the cycle goes on with more and more recruits trying to sign up new members.
The structure of the business is called multi-level marketing as you need to buy in at a certain level in order to be able to promote a certain product.
You will then be encouraged to build up a downline of recruits that you will also earn money from when they make a sale (sign someone up to Easy1up).
Who Founded Easy1Up?
Easy1up was started by Peter Wolfing. Their about page makes some bold claims "Peter has shaken the foundation of the network marketing industry by disassembling the cumbersome infrastructure and completely streamlining the system. He has virtually re-invented the industry."
I sometimes like to mention a founder because their history can be relevant to the business in question. Peter Wolfing has previously started a number of scam programs, including Turbo Cycler, Business Toolbox, Infinity 100, Pay Me Forward and National Wealth Center.
Of these, only National Wealth Center is still in business. Which, I think, tells us a lot.
They all seem to follow a similar and unsustainable model where he as the founder is the only real beneficiary. He then uses the money made to start up another scam product.
How I Learnt To Earn!
Learn to make a passive income every month! There is no secret formula, you just need to apply yourself using proven techniques.

Stop dreaming about it. You Can Change Your Life!
Easy1Up Cost and Products
​As I've mentioned earlier in this Easy 1 Up system review, there are 5 levels of video training which are the products used to get you to pay to join plus the highest level which is 'Live'. They are all one-off payments that come with an additional admin fee of $5-50. Easy1up do not offer refunds.
Weirdly it is not even possible to sign up without having been referred by one of their affiliates.
This is because E1U uses a reverse 1 up payout. This means that every second sale goes to your sponsor and every second sale of your recruit goes to you. It's a cash gifting system and the products are there just for recruiting purposes. They don't really offer any value in and of themselves. 
The information on their website about the training is thin at best and really gives no incentive to sign up and hand over your cash. All of the topics are covered on Youtube and they offer no explanation or indication of why their course is better than any other.
Level 1 – Elevation ($25 + $5)
This is the most basic and cheapest course. You will learn about network marketing and how to generate leads using social media. It will also cover things like how to offer bonuses and how to create a lead capture page
Level 2 – ​Elevation Elite ($100 + $10)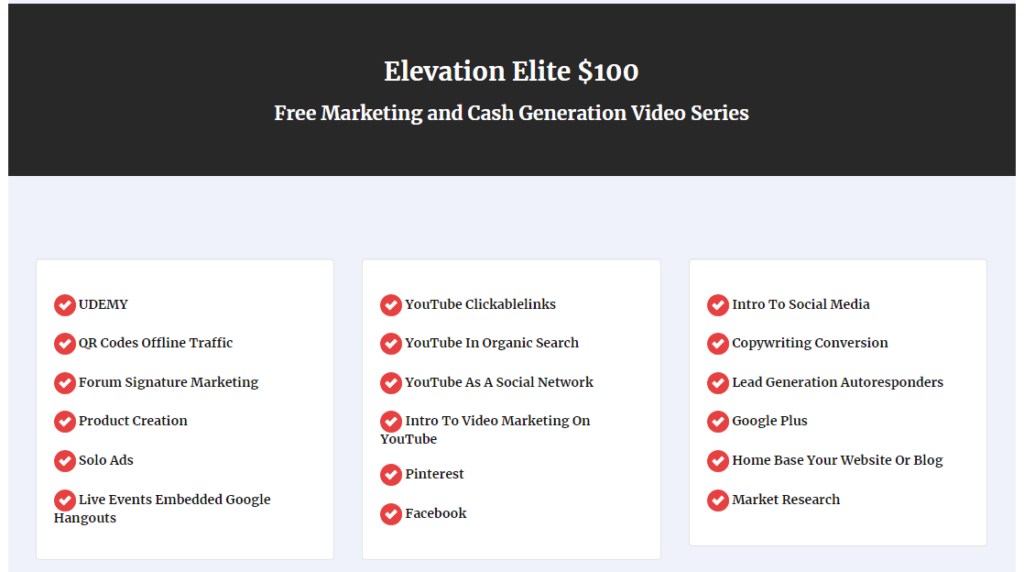 For $100 you gain access to a video course that focuses on video marketing using YouTube. It also covers using Udemy, Pinterest and Facebook to gain traffic that you can monetise using affiliate marketing. It's a bit all over the place, it seems like they are throwing topics in at random.
Level 3 – Vertex ($250 + $25)​
On the 3rd level, Vertex. You will get what they claim is more advanced and in-depth training. It covers things like mindset and building relationships.
Level 4 – Vertex Elite ($500 + $50)
At the 4th level, they cover generating free online traffic and dropshipping. Hang on. Dropshipping?
That is a completely different ball game from affiliate marketing and usually would have a completely separate course.
Why are they thrown together? It makes no sense.
I think they just want to make it look like you are getting more for your money.
Level 5 – Vertex Pro Connect ($1000 + $100)​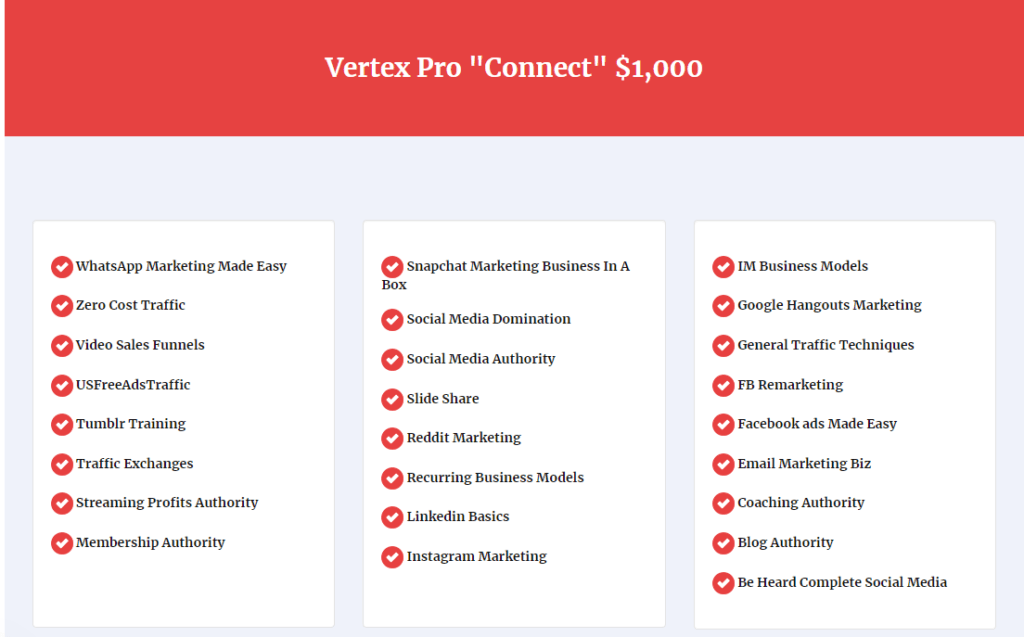 This level has a long list of topics, not all of which make sense. The general theme is to use social media for marketing purposes. It is a bit of a mish-mash of content and lacks the coherent structure of a proper affiliate marketing course.
Level 6 – Vertex "Live" ($2000 + $200)
Level 6 is a combination of further video training and access to one live conference. It seems very expensive for what you get. But all good MLM's need a high ticket item! If you love the conference so much you want to go to another one, the good news is that you can. For another $295.
The price for each level includes all the lower level products. So, if you buy the Vertex Pro course for $1000 you get the Elevation, Elevation Elite, Vertex and Vertex elite products included.
If you want to start at the bottom of the Easy1up levels and work your way up you will have to pay for each of them separately so you would spend $1875 (plus $195 in admin fees), to get to the same Vertex Pro level.
By the way, this program that has enabled me to generate a 4-Figure Monthly Passive Income is FREE to get started and only costs $49/month fee to go full-time!
How Good is the Training?
The biggest issue with the training is that they want you to purchase one of the levels to be part of their system. There is nothing to help you differentiate between any of the different courses.
Other than a few bullet point headings there is nothing to say what their content is or why it is worth paying for.
You might be thinking that there must be more to it than I have mentioned. Well, all I could find was that in addition to the 6 levels of training, they claim that they have extra resources like 24/7 support and some unspecified marketing tools. Not terribly exciting.
They have a short Easy1up testimonials page that has 7 brief and anonymous write-ups. It was nowhere near convincing enough to get me to sign up.
I have reviewed a whole load of courses on this site. Some are good, some are bad, some are in between, but almost all of them offer either a free trial or a refund. This is not the case with Easy1up. There are no refunds at all.
This is a real red flag for me, especially when combined with the general lack of information about what you get for your money.
​
Easy 1Up Compensation Plan

Easy 1Up uses a uni-level compensation plan, one of the most commonly used comp plans in multi-level-marketing.
With the Easy1up Compensation plan, there is no limit on the number of people that you can recruit.
You will receive 100% commission on all sales you make – except for every second sale which will go to your sponsor.
The second sale of anyone in your downline will also be passed up to you. This is the concept of "reverse 1 up​" which will encourage you to help your downlines to make sales.
I honestly think that MLM's think it is their duty to try and outdo each other with more and more confusing compensation plans. Click here to see the Easy One Up compensation plan.
As is usually the case with MLM companies, it is a pay to play system. To be eligible for commissions, you must first purchase the product. So, to get a nice tasty commission form the $1000 Vertex Pro, you will need to have bought it yourself first.
You get a 100% commission which is awesome if you do make a sale but it really tells you that the products themselves are of low quality. They can only be sold if someone does a lot of arm twisting in the hope of getting a nice big commission.
The commission gets paid to you immediately without going through the company's system. Peter and Easy1up get to keep the admin fee which is how they make money.
Easy1up Review: The Good Stuff
​Unusually for one of my reviews, there is not much that I like about it. There are a couple of things that seem good but are actually bad.
At first, when you find the site you will likely think that 100% commission is great. If you can even make one sale then you get your money back and get all that training for free.
This is the hook that draws people in.
Make just a few more sales and then you can make big money. It sounds good. It sounds easy. That's why MLM's are successful.
But, over three-quarters of people that sign up for an MLM make no money or lose money. So the odds are stacked against you.
The other thing that seems good, but is actually bad is the immediate payment. How is this bad? Well, it is only possible because there is no refund or money back period which in the online learning space is unusual and to me, it screams that the product is no good.
Easy 1 Up Review: The Bad Stuff
Is Easy1up a Pyramid Scheme?
Easy1up is not technically a pyramid scheme, but it is a pyramid scheme in nature. A true pyramid scheme makes money just by getting people to recruit other people, it has no real products or services.
Easy1up avoids this on a technicality as they do have a product – the courses. But the way it works and the way members make money is solely by recruiting people into the system, as they admit themselves.
Your downlines are supposed to recruit even more people, so the cycle just goes on and on until it becomes unsustainable and breaks.
I am a bit surprised that they are still running. There are a couple of similar systems that have been shut down by the FTC. MOBE and Digital Altitude were hugely successful but their business practices were deemed to be illegal and they got shut down.
So, if you are thinking of joining Easy1up or a similar MLM just be aware that they might get closed down and you won't be able to get the commission for recruiting. I don't know if this will happen but it is not really a sustainable business model.
Poor Quality Training
As the system is just a scam to get more and more people into the system, the training is not designed to give real benefit to its students.
The training will not show you how to build your own business away from the Easy one up program.
You may pick up one or two things and get a basic introduction to digital marketing, but the course design is so haphazard that you will probably end up quite confused.
There is nothing to show why their training is better than anyone else's and the fact that they won't let you have a look for free or get a refund shows clearly that they aren't proud of their content.
​
Is Easy1Up a Scam? Final Verdict​
Some people have called out an Easy1up scam but it isn't an out and out scam as they do provide some training for your money.
Something can be a rip off without being an actual scam. It's just that this training will only really teach you how to recruit more people to Easy1up.
The whole system is designed to get more and more recruits into their system, but they offer nothing of real value in return.
If you want to make money online then educating yourself is a great idea as it will give you the leg up that you need to start your own online business.
But, Easy1up isn't the place to do it and you certainly don't need to be shelling out thousands on an unproven course.
There is a Better Option
I hope that you have enjoyed reading my Easy 1up review. It should be pretty clear that I don't rate it as a platform and I definitely recommend that you stear clear of it.
That doesn't mean you should give up on finding a way to make more money. There are much better opportunities online.
Affiliate Marketing is my top recommended business model for anyone looking to make money online.
You don't have to recruit anyone to make money like you do with an MLM
You are building your own passive income stream
It's FREE to get started
I started making money online as a complete beginner and now make a 4 figure monthly income.
To find out how I do it and to see my #1 method of making money online, click here.
You May Also Like
If you're looking for a totally legit way to make money online you should click the button below to discover how I've personally created a 4-Figure Monthly Passive Income Stream.