Blogging is a great way to make money online and one of the best things about it is that it can be done from anywhere in the world.
You can start a blog from your home country or whilst travelling the world as a digital nomad. If you have ever wondered about how to start a blog in India (or from anywhere) then you have come to the right place.
After a few years of blogging, we have learnt many valuable lessons along the way and are happy to share our experiences so that you can start your own money-making blog.
In this post, we will run through how to start a blog and the most important things that you need to consider as you get your own website up and running.
If you plan to use your blog to make money, whether that be as a side hustle or your main income, it is important that you get your mindset right from the very beginning.
Running a blog as a business is very different from running a hobby blog and getting things set up properly from the start and writing with a clear purpose will save you a lot of heartache further down the line. It will put you in the best possible position to start making money online quickly.
---
Ready to Start?
Click here for a free 10 stage tutorial that will walk you through the process step by step.
This free training will show you how to start a blog that is built for long term success.
It will help you pick a niche, and show you how to write great content that will put you top of the Google rankings (this is key to making money online).
---
Why YOU Should Start a Blog in 2020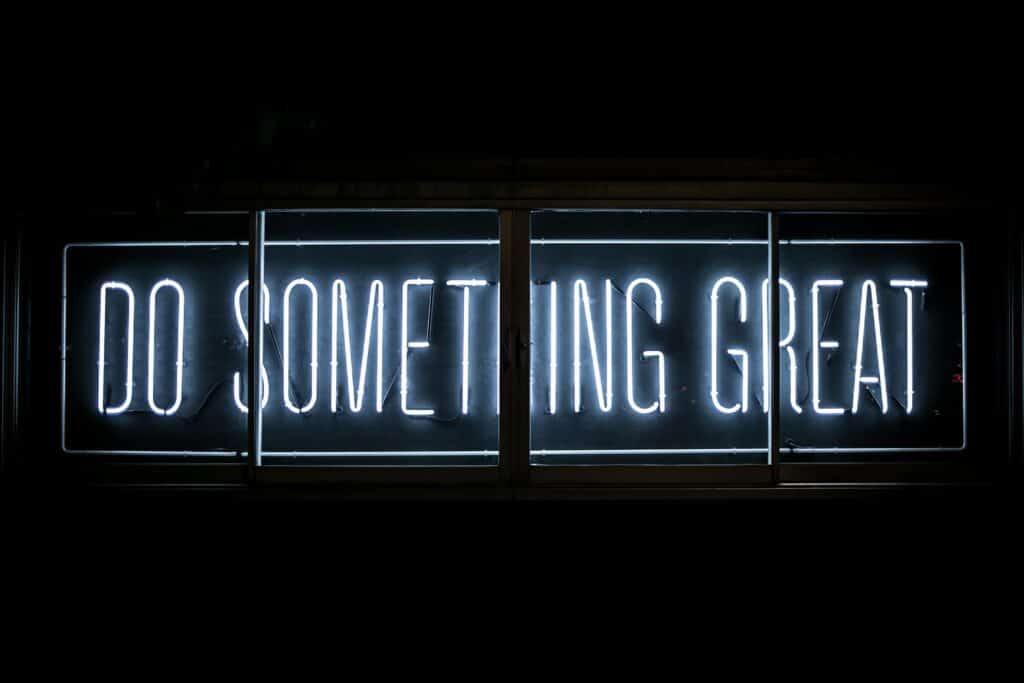 Before I go through the steps involved in creating a blog I thought that it would be worth covering some of the great reasons why you should start one.
In this post, we are talking about blogs that are designed to make you money. Obviously this is a big reason to start a blog but you will get so much more out of running a blog.
Learn New Skills (with Total Freedom to use your Creativity)
This is your blog and it can be about anything that you want. You can choose the name of it, how it looks, what you write about. Everything. It is all up to you!
Of course, you will be writing a lot (and your writing will improve loads!), but you can also get involved in other things like graphic design, photography, video production, coding, click funnels, marketing, link building, networking and a whole world of other things that you won't have even heard of yet.
Of course, as this is your blog you don't need to do anything that you don't want to do. So don't worry if you don't want to make videos or learn how to code, I haven't done either of these things and setting up a blog that looks great is easy.
Blogging will open your eyes to a whole host of new learning opportunities that might come as a revelation if you are currently used to the constraints of a standard 9 to 5.
Build a Valuable Asset
Something that many people do not realise is that blogs and websites have value and are sold all the time.
Some online entrepreneurs spend a couple of years building the revenue of a site up and then sell it for a big paycheck.
You may or may not feel like selling a site that you have poured your heart into and spent hundreds of hours on, but it is an option. And it is nice to know that your efforts are not only bringing in a monthly income but that you have created an asset that is worth thousands of dollars (websites tend to sell for around 25-30 times their average monthly income).
Once you have learnt the skills involved to build a successful website it will be far easier to repeat the process and build more money-making websites. Not only are you building a valuable asset, you are also building a valuable skill set as well.
Improve Yourself in a Supportive Community
Another great thing about running a blog is the chance to be part of a great community of fellow bloggers and website owners. You will find that people are only too happy to pass on their expertise and help you out. The support that you get and networking opportunities are fabulous and nothing like my experiences from the world of work.
As a result of all of this, you may well find that blogging gives you the chance to increase your self-confidence and self-esteem. You create your own blog alongside a supportive community, free from the shackles of a bad boss.
Create Passive Income
So, this is probably your primary reason for wanting to start a money-making blog. The dream of creating your own source of passive income. The idea that you can wake up, check your affiliate commissions and know that you earnt money while you were asleep will never grow old.
Of course, to earn money while you sleep you will have to put in plenty of work whilst you are awake. But once you have created some money making content online it could be there forever earning you money.
Website earnings compound in this way, the more articles you write the more chances you have to make money. So if you keep at it your income will grow and grow.
Work From Anywhere
One of the best things about blogging is that all you need is a laptop and a camera. You can travel the world as a digital nomad, stay at home or work from the local cafe. It's totally up to you. You have complete freedom to live your life as you want to.
How to Make Money from a Blog
A lot of people ask how do you make money blogging? It doesn't seem to be well understood outside of the online entrepreneur community but there are so many different ways to make money once you have built your website and found your audience.
How much can you earn? The sky really is the limit. There are loads of bloggers and niche website owners that have made millions from a simple website. Of course, most people don't earn quite that much but there is plenty of money out there if you get the formula right.
The main ways to make money form your website are:
Affiliate marketing
Adverts
Sell physical products
Sell Digital products (ebooks, training courses etc.)
---
How I Learnt To Earn!

Learn to make a passive income every month! There is no secret formula, it just needs you to apply yourself using proven techniques that will take you from dreaming about doing it, to being able to Change Your Life!
---
How to Start a Money-Making Blog (in 8 Easy Steps)
1. Choose a Niche
The first thing that you need to do is to choose the subject that you want to write about on your blog. This is usually referred to as a niche.
This is possibly the hardest part of starting your blog! You can choose any topic you like: travelling, gardening, make-up, dogs, make-up for dogs. It is up to you.
Whatever you choose, you will end up becoming an expert in it and writing about it a lot so it's a good idea to choose something that you are interested in already. If you are already an expert in a certain subject then that might be a good topic for your blog.
But you need to consider how you will make money from your blog. Is your niche blog idea something that lots of people will want to read about? Are there related products that you can sell? Don't choose a subject just because you are interested in it, you need to be able to think of a clear strategy of how to monetise your website.
Lesson 3 of the free training goes into choosing a niche in far more detail than I can cover here.
2. Choose a Name
Once you know what you are going to be writing about, it is time to come up with the all-important site name.
This is another tricky decision that you need to make when you start blogging that could shape your business for years to come.
Your blog name should be memorable, brandable and not too long.
It could be something directly related to your niche or maybe something a little more random. Lots of people just use their own name (that was never an option for me as it is way too hard to spell!).
Choosing a name is doubly hard because you need to find a name that fits with available domain names. Don't set your heart on a blog name without checking the availability of the domain name.
Be sure to get a dot com domain name, don't be tempted by one of the other domain extensions. Having an address that ends with .com gives your brand more credibility, ranks better in search engines and is more memorable.
If the .com for the name you like isn't available, someone else is probably using it and you don't want to end up having legal issues fighting to use the same name.
So, if the dot com is not available, put your thinking hat back on and come up with a new name.
Click here to check availability on namecheap.com
3. Choose a Blogging Platform
I am not going to spend ages covering all the different blogging platforms. If you want to start a money-making blog you should choose WordPress. This is pretty much the industry standard and gives you full control of everything when you use your own web hosting.
Other platforms like Wix.com or Blogger.com might seem fine at first but they restrict your options further down the line so you might as well stick with WordPress and get your own hosting (rather than using WordPress.com).
4. Choose a Host
As mentioned above you should set up your website with your own web hosting. One of the best and cheapest hosting options is Bluehost who have pricing plans that start from just a couple of dollars per month.
Ready to launch your blog? Get started for just $2.95/month (63% off your hosting plan) with my link below:

Try Bluehost
An alternative is to go with Wealthy Affiliate which includes top-quality hosting alongside their world-class training.
They even include premium keyword research tools, weekly webinars and membership of a supportive community as part of the monthly subscription.
I have written a full review of Wealthy Affiliate and also weighed up the costs to see if Wealthy Affiliate is worth it (this is what I actually did before joining as a premium member).
Click here to see just how much you get for your money
5. Choose a Website Theme
Installing a theme takes seconds and will instantly make your blog look like a proper website. There are hundreds of free themes to choose from, or if you would like a really professional looking site, pick a premium theme. We love all the Elegant themes.
6. Find Keywords
There is no point in having a great new blog if nobody ever reads it. There are a whole bunch of different ways to get traffic to your blog but the best way is to get free traffic from Google.
The way to get this valuable traffic is to learn about keywords and search engine optimization (SEO). You'll end up reading loads about SEO but all it really means is writing your posts in a way that helps Google understand what you are writing about. That means that Google can match up your post with people who are searching for that topic.
Essentially, you need to use keywords in your title and your post that explain the topic of your post.
Not all keywords are equal though and some will be much easier to rank well for on Google (you really need to get your post on page 1 of Google search results). So before you start writing a blog you need to do some keyword research and find some low competition keywords that you have a good chance to rank for.
This is where a good keyword research tool proves invaluable. These tools will show you how competitive a keyword is and how hard it is to rank for different phrases. This will allow you to build content that has the best possible chance of being seen by your target audience.
My two favourite keyword research tools are Jaaxy and Keysearch
7. Start Writing
Now that you have chosen your niche and found some awesome low competition keywords, it is time to start writing your first post!
Hopefully, your creative juices are flowing and the words will come freely. If not, stick at it and it will get easier.
The important thing is to create really engaging content that people want to read so take your time if necessary and create something that you are happy with. Having said that, there is a lot to be said for just getting on with it, especially when you are just finding your feet in the early days. And don't worry, you can edit your blog posts at any time!
8. Add Affiliate Links
This is the money-making part. There are loads of ways that a website or blog can make money but one of the main ones and the best one to get started with is affiliate marketing.
Affiliate marketing means that you include a special link in your post that which will give you a commission if someone clicks your link and then buys the product or service that it links to.
The product can be anything that is related to the niche that you chose. One of the best ways to earn these commissions is to write reviews that recommend physical products, hotels or other services.
---
Start Your Blog Today
Click here for a free step by step training that will teach you all about affiliate marketing and hold your hand through the steps needed to start up your own money-making website (it's not as hard as you think). You even get 2 free web domains.
Please work your way through all 10 free lessons as YOU will achieve SO MUCH and you will have started your very own blog!!
The training doesn't just show you how to set up a blog, it shows you how to make money from your blog.
If you follow the training, you will have already:
Learnt more about the process of earning money online
Set your own short and long term "money-making" goals
Chosen your niche
Named and built your very OWN website
Set-up a website that is geared for long-term success
Learnt how to set-up plugins that maximize website efficiency
Optimized your website for search engines (Google, Yahoo, & Bing)
Created your very first page of content on your website
Built many relationships with other online entrepreneurs
Understood the process of keyword research
Found some awesome, low competition keywords
Learnt how to properly set-up your website navigation
Learnt lots of other powerful stuff that is going to help lead you to SUCCESS
On top of all that, you will be part of the most active, most knowledgeable, most helpful community of bloggers and affiliate marketers in the world.
There is a lot to learn when you start a blog and having a structured process to follow and the support of a friendly community that has done it all before makes a BIG difference.
>>> Click here to start the FREE training (just enter your email address to get started)
Final Thoughts on How to Start a Blog (in Canada, India, UK, USA or anywhere)
We hope that you have enjoyed our guide to starting a blog. Running your own blog is an incredibly rewarding experience. Aside from the money-making opportunities, it gives you an outlet for creativity and personal development.
If you have ever thought that you might like to start a blog then we recommend that you follow the free training to get your own blog set up. You have nothing to lose!
Once you have done that you will have a better idea of whether blogging is something that you would like to continue with.
Having your own website will open up a whole host of opportunities and you can take your blog in whatever direction you like. I thought about doing it for two years before getting started. Don't make the same mistake I did. If you don't try you'll never know!