In this Mirror Trading International review, I will give you the lowdown on Mirror Trading International, a Forex/Bitcoin investment company that promises a hands-off way to invest and grow your income.
You are probably wondering whether this is a legit way to make some extra cash or not and you have done the right thing in doing some research before signing up. There are too many online scams and pyramid schemes out there waiting to pounce on the unwary.
In this Mirror Trading International review, I will cover everything that you need to know about the company, including background information, the cost of joining and whether it is a good way to make money.
So, is Mirror Trading International legit or is Mirror Trading International a scam? Keep reading to find out.
Mirror Trading International Review – Summary
Company: Mirror Trading International

Website: https://marketpeak.com/
Price to join: $100 to $10,000
Program type: Forex/Bitcoin Multi-Level Marketing
Summary: Mirror Trading International promises a passive investment opportunity with a multi-level marketing program.
The company is not properly registered and is operating illegally. It is a pyramid scheme that will inevitably collapse and most members will lose their investment.
This is one to avoid.
Do I recommend? No!
There is a Better Option: If you're looking for a totally legit way to make money online, click the button below to discover how I learned to make a 4-Figure Monthly Passive Income Stream.
What is ​Mirror Trading International?

Mirror Trading International (MTI) is an investment company that focuses on Bitcoin and has a multi-level marketing referral program.
You start by paying in at least $100 worth of Bitcoin. This is then put in a trading pool with money from the other investors and profits are shared out equally based upon your share of the pot.
I presume the same is true of any loses but their home page neglects to mention this possibility.
The big attraction of MTI investment scheme is that once you have invested your money there is nothing else to do but sit back and watch it grow as the artificial intelligence will open and close trades for you. MTI claims an average historical profit of 0.5% per day.
This is a great return, but of course, past performance does not mean that will happen in the future. Also, profits are largely based upon Bitcoin which is famously volatile and subject to huge percentage swings that are masked but the apparently great average daily interest.
The second way that you can make money with Mirror Trading International is through the referral program and building your own downline.
If you do this you will earn bonuses based upon the amount of Bitcoin that is invested by your team.
MTI is based out of South Africa and the founder is named Johan Steynberg. He has been involved with previous scams including Devoted Investments, Dragon Mining, BTC Global, and HashOcean
Is Mirror Trading International Legit?
Mirror Trading International combines pyramid recruitment with a passive investment opportunity.
There is no evidence that Johann Steynberg has a forex trading background. It is not clear where and how Mirror Trading International is trading.
MTI's passive investment opportunity constitutes a securities offering.
Securities in South Africa are regulated by the Financial Sector Conduct Authority.
But neither the company nor Johann Steynberg are registered with the FSCA.
Based on this, Mirror Trading International is operating illegally in South Africa.
MTI should be registered with securities regulators in every jurisdiction that it takes investment from. As it is not, the company is operating illegally worldwide.
So this is a massive red flag.
Do you really want to invest your hard earned with a company that is operating illegally?
By not registering they are avoiding the obligation to provide audited accounting that demonstrates the trading that is being used to pay the returns.
The reason they're not registered is they'd have to prove their members are actually earning money from their passive investment which isn't happening.
By failing to register and providing disclosures, Mirror Trading International is committing securities fraud.
The only known source of revenue entering Mirror Trading International is new investment from new members and the people that they recruit.
Using new investment to pay returns to their affiliates makes Mirror Trading International a Ponzi scheme.
The math behind Ponzi schemes guarantees that when they collapse, the majority of participants lose money.
As there is no real product or service to promote other than a membership, this is also a pyramid scheme (which is also illegal).
---
How I Learnt To Earn!
Learn to make a passive income every month! There is no secret formula, you just need to apply yourself using proven techniques.

Stop dreaming about it. You Can Change Your Life!
​Is Mirror Trading International A Pyramid Scheme?
Yes!
I have reviewed a lot of MLM schemes that manage to avoid being a pyramid scheme, but this one is a pyramid scheme.
The key difference between a pyramid scheme and a Multi Level Marketing company is whether there is a genuine product involved.
Companies like Enagic use an MLM system to sell their products. There are commissions to earn and a complex payment structure. I don't particularly recommend it for you, but it is a legitimate business model.
A pyramid scheme uses a similar recruitment structure but there is no product or service involved, you are simply earning money by recruiting other people. In most countries, pyramid schemes are illegal.
When you join Mirror Trading you join a system that relies on you and others recruiting more and more people to keep the whole thing going.
This whole scheme relies on recruitment. If recruitment slows down the project will collapse.
When it does it is guaranteed that most people will lose money.
​Is Mirror Trading International A Ponzi Scheme?
Yes!
A Ponzi scheme is "a fraudulent investing scam promising high rates of return with little risk to investors. The Ponzi scheme generates returns for early investors by acquiring new investors."
There are a lot of similarities and overlaps with pyramid schemes and Ponzi schemes, and MTI falls in both camps.
Mirror Trading International misleads investors about the source of their revenue.
They claim returns are based upon trading but most, if not all, of the revenue comes from recruitment and new investment.
As the system relies on new investemnt to pay commission to their existing affiliates, it qualifies as a Ponzi scheme.
Like pyramid schemes, Ponzi schemes are guaranteed to collapse as the inflow of money cannot be sustained indefinitely.
---
Mirror Trading International Compensation Plan
To join Mirror Trading International you must make a minimum investment of $100.
If you want to earn money by recruiting others you will need to invest a minimum of $200 but the more you invest the more levels of compensation you can get from your downline.
An investment of $10000 or more will get you unlimited levels down.
Invest $200 to $999 earn 10 levels down.
Invest $1000 to $4999 earn 20 levels down.
Invest $5000 to $9999 earn 30 levels down.
$10,000+ earn from unlimited levels down.
The Mirror Trading International compensation plan is relatively straightforward.
Recruitment Commissions
Whenever you recruit someone to MTI you get a 10% commission on whatever they invest.
Residual Commissions
You can also earn residual commissions from your downline using a binary payment structure like the one shown in the image below.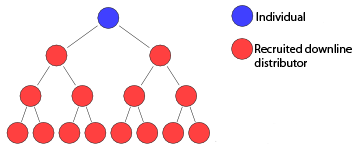 As shown above, when you invest more you will earn from recruits on levels all the way down.
It is the total amount that your recruits invest that is key, rather than the overall number. But, having more recruits should give you a better return.
Mirror Trading International Pros And Cons
Pros
Cons
Securities Fraud: MTI is not registered with the appropriate authorities anywhere. This means that they are committing securities fraud. This is not something that you want to get involved with.
Ponzi scheme: They aren't registered as they would need to prove their investment claims. Their source of income is ongoing recruitment rather than successful trading. This makes Mirror Trading International a Ponzi scheme. 
No products: Multi-level recruiting without a product is a pyramid scheme. This is illegal. Hopefully you are getting the idea that this is not a great opportunity for you!
Is Mirror Trading International A Scam?
Yes!
Mirror Trading International is a scam.
They are operating illegally in a number of different respects. They are not registered to sell securities, they are a pyramid scheme and they misrepresent their investment opportunity.
MTI is a scam and will not be around for long (the authorities are taking notice). The math of Ponzi schemes and Pyramid schemes just doesn't work long term.
Eventually, they will collapse due to the lack of new recruits and when this happens only those that got in right at the start will have made any money.
Below I have listed some other reasons that demonstrate the Mirror Trading International scam:
According to their terms and conditions, if you post your earnings on social media they are allowed to freeze your account.
If you send any negative news articles to other people, they can suspend your account according to their T&C's.
They refuse to show the wallet address where the bitcoin investments are kept. There is a simple reason for this. It would be obvious that they do payouts with new investments.
Their forex broker has not been made public. FXChoice has denied trading forex on their behalf.
Why build an MLM company if you can make money out of trading? Easy – there is no trading and trading can never be guaranteed.
Why do affiliates have to keep a minimum balance of 0.01 BTC in their accounts? If everyone were to withdraw all their money at the same time the scam would collapse like a typical Ponzi scheme. On the day I write this 0.01 BTC is $118 so above the minimum investment.
The payout structure is deliberately opaque (smoke and mirrors?). Scams usually do this to make it as difficult as possible to calculate your payouts.
They promise a minimum return of 10% per month. Anything that guarantees a return is a scam. Even the best traders have a bad day.
I think that it goes without saying but, please don't join Mirror Trading International.
There is A Better Opportunity
Unfortunately, there are way too many online programs like MTI that are looking to make a quick buck out of people that just want to make a bit of money online.
One of my main hopes with this site is that I can help steer a few people away from the scam sites to the few genuine opportunities that exist online.
And out of all of the good programs I've seen, the one I would recommend the most to anybody looking to get started online is Wealthy Affiliate.
In my opinion, it's the best place to start.
At Wealthy Affiliate, you'll be provided with everything you need (including training & tools) to start earning real money by building websites that promote products or services online.
What's more, you can get started for FREE!
The best part is that there's no limit on the amount you can earn with it. The process is dead simple which makes it absolutely perfect for people just starting out.
It is the place that started me on a journey to earning 4 -figures per month. But I am just one of many that has grown an online income and some wealthy affiliates even earn as much as 5-figures per month… Or more!
Be warned though, it is not a get rich quick scheme. This is not the place to look for a big quick windfall. You have to put the effort in.
But the good thing is that the harder you work, the more you will earn.
So, if you are looking to get started and aren't sure what route to take, then check out Wealthy Affiliate as it is my top recommendation. You can learn more about it here.
You May Also Like
If you're looking for a totally legit way to make money online you should click the button below to discover how I've personally created a 4-Figure Monthly Passive Income Stream.