The internet is full of people that promise that they can help you to get rich. Some of these people are legit, some are outright scammers and some fall somewhere in the middle.
My aim is to help others to find the best ways to make money online whilst avoiding scams and wasting money on overpriced courses.
In this The Six Figure Mentors review, I will help you to decide whether it is the right opportunity for you or whether Six Figure Mentors is a scam to be avoided.
The Six Figure Mentors Review – Summary
Company: The Six Figure Mentors
Founder: Founded by Jay Kubassek & Stuart Ross in 2011
Product Type: Affiliate Marketing / MLM Training + Membership
Price: $29 to $20,000 depending on Membership Level
Best For: The owners and a very few high level members
Summary: The Six Figure Mentors provide some decent online marketing training but there are so many upsells that to get it all costs a fortune. The structure of the company is more like a high-ticket MLM company and verges on being a pyramid scheme.
Rating: 2/5
There is a Better Option: If you're looking for a totally legit way to make money online then click the button below to find out more about how I build websites that make me a 4-Figure Monthly Passive Income (It is totally free to get started).
What is The Six Figure Mentors?
The Six Figure Mentors (SFM) boast that they will be able to help you live the "Internet Laptop Lifestyle" just by following their training.
This is an alluring proposition and is one of the big reasons that I started my own journey into affiliate marketing.
So we are on the same page, but does their product live up to the claim?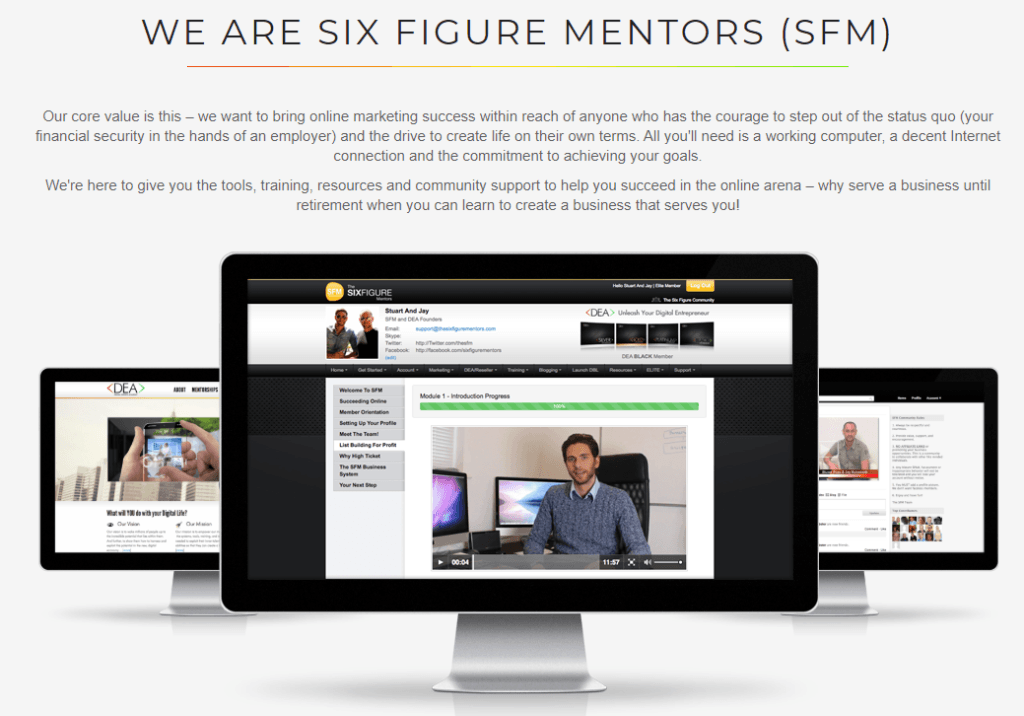 Six Figure Mentors offer step-by-step training on digital marketing as well as some marketing tools and resources to help you to make money online.
They have some ready-made resources including:
Marketing Banners
Affiliate Links & Sales Pages
Customizable Sales Funnels
Customizable Link Generator
Customizable Tracking Generator
Customizable Tracking Stats
Your job is simple. You follow the training, listen to your coach and build a website using one of their tools. You are also given a landing page to promote on your website.
So far so good. This is exactly the sort of thing that people are looking for and seems like a good way for anyone to escape from their 9-5.
Unfortunately, it is not quite as good as it sounds an there are loads of flaws in the system that I will go into as you keep reading.
The basic premise is sound though and if you want to get into online marketing you should check out my recommended training here.
SFM was founded by Stuart Ross and Jay Kubassek. If you have been interested in online marketing for a while then you may have come across Jay through "Carbon Copy Pro" or "Pro U", these were both scam companies that are no longer online.
The two of them also run Digital Experts Academy (DEA) which is actually connected to Six Figure Mentors as you can get DEA membership as one of the many upsells at SFM. This is one of many red flags against SFM.
So, it is clear that the two owners have been doing this sort of thing for a while and it is worth thinking about how good their track record is.
How Does Six Figure Mentors Work
SFM attracts new customers by using a sales funnel, you may have seen their ads on Facebook or YouTube that promise an escape from your job and the dream of travelling the world whilst working from your laptop.
If you click on the ad you will be sent to a lead capture page where they ask for you email in exchange for a free gift, which is a free 7-day video training course that promises to teach you how to live the laptop lifestyle.
You will then get a video sent to you every day. All the videos are a basic overview of how affiliate marketing works and they pitch why their program is best and why you should join Six Figure Mentors.
Following the free video course, you will be encouraged to sign up to the basic starter membership. At only $29.95 it isn't too pricey but you only get very limited access to their system. To get more info you will need to go through all their upsells.
Once you are a basic member you will be encouraged to have a Skype call with one of their 'business coaches'. In this chat, you can ask them any questions that you have, whilst they will encourage you to pay more money to take your membership up to the next level.
But there isn't just one level of upgrade. Nope, they keep holding things back so that you need to upgrade repeatedly to gain access to everything.
How Much Does Six Figure Mentors Membership Cost?
As mentioned above there are several levels of membership that get increasingly expensive.

Student Access: FREE (Very limited access)
Essential Membership: $297 + $97/month
Elite Membership: $2,500/year + $97/month
You won't see much mention of these levels of membership in the early emails. They hook you in with a free product and then a seemingly cheap membership, but to actually get much use out of their service you will have to pay to go up to higher levels.
The free membership just gives you access to one basic introductory course, and you cannot access any of the tools or features on the site. It's not really a free trial as you can't properly try it out.
If you want to make a success of it you will have to upgrade, there is no getting around it.
Or, you could try my favourite training program which has enabled me to generate a 4-Figure Monthly Passive Income. It is FREE to get started (you can try everything, and even start your own website). If you choose to upgrade it costs only $49/month fee to go full-time!
This includes all the tools and training you need to run a successful online business
>>> Click here to find out more
DEA Membership
The Elite Membership is not the final upsell though
After the Elite Membership, they'll introduce you to another program called Digital Experts Academy (DEA) which is integrated with SFM. Yet again you will need to upgrade to get even more support and training.
There are 4 levels of DEA Membership (so there are upsells within an upsell!):
DEA Silver: $2,500
DEA Gold: $8,000
DEA Platinum: $11,000
DEA Black: $20,000
These are high ticket upsells! If you take a look at the SIx Figure Mentors compensation plan you will see that it is not just more support and training that you get with DEA membership, you also get access to potentially huge commissions if you can recruit others.
Tools & Services
Hang on, we are not done with the upsells yet! They also offer a few tools that you need to pay for. These are required for you to build and run your online business.
These are the 4 main tools offered by SFM:
Digital Business Lounge: $37 or $67/month
Simple Lead Capture: $29.95/month
Graphix Creator: $99
SimpleTrakk: $9.95/month
The tools are good and useful. But, they are way too expensive! Not only that but once you start using them you are pretty much locked in and it is hard to keep running your business unless you keep paying for them.
One of the great things about affiliate marketing is how low the start-up costs are. Or should be. If you go with SFM digital business system you could easily spend thousands before you have earnt a cent.
How I Learnt To Earn!
Learn to make a passive income every month! There is no secret formula, you just need to apply yourself using proven techniques.

Stop dreaming about it. You Can Change Your Life!
Six Figure Mentors: The Good Stuff
Even programs that I don't recommend usually have something going for them
Decent Affiliate Marketing Training
​If you are looking to earn money online then affiliate marketing is a great place to start. The training that they provide at SFM is good. They provide a decent foundation in what you need to know and have some useful tools that will help you get started
What they teach will be useful and could even lead to you becoming successful in the online world. It's just that it is expensive and the business model of constant upsells is frustrating.
The affiliate marketing course doesn't just cover the technical aspects, the first few modules are about having the right mindset.
This is such a crucial piece of the puzzle and one that shouldn't be overlooked. success in any business takes time and you need the right mindset to get over the fact that you will initially be spending hours working for no monetary reward.
Money Back Guarantee
SFM offers a 30-Day Money-Back Guarantee. So, you can always give it a try and get your refund within 30 days if you don't like it. I'm not sure how many hoops you have to jump through to get your refund.
Six Figure Mentors: The Bad Stuff
Too Many Upsells
If you have read this far, this should be obvious.
You might be able to gain access for a small fee but the fact that they withhold access to so much until you pay more and more is pretty shady if you ask me.
There are not many people that can shell out up to $20,000 to get full access. If you do have that much money there are far better ways to invest it, you could even kick start your online earnings by buying an established site.
It is hard to see how they could possibly add that much value. Everything they teach is widely known to other people and available far more cheaply (or even for free).
Is Six Figure Mentors a Pyramid Scheme or MLM?
The initial training is a good introduction and overview of affiliate marketing. But, the further you go the clearer it becomes that actually the main focus is on getting you to recruit more people to SFM.
Affiliate marketing is great because you can follow your own passions, and make money in any area that you can imagine. But the business model SFM teach is far more restrictive and channels you towards promoting their product.
All the tools that they provide are for promoting their membership and recruiting more people into the system.
Paid For Tools
Not only do you have to pay for using their (admittedly useful) tools, but they also tie you into their system. You might realise that you aren't getting value out of SFM, but you feel trapped as it is not easy to take your business away from their system.
Non-Interactive Platform
After joining Wealthy Affiliate, ​I found out what a truly interactive platform is.
The Private Community at SFM is not that useful or active. There is no way for you to contact the Co-founders and connecting with them is rare.
Mostly, the training is delivered through a simple video, you are not able to get immediate help or simply share ideas.
Building an online business is not easy. Having access to experienced mentors is invaluable. But, SFM is not the place to get this assistance you have to book slots with your personal coach or email them. At Wealthy Affiliate, I have got used to the fact that I can get instant support 24/7.
Pay to Become an Affiliate
Affiliate programs are normally free to join. After all, you are promoting their product and helping them to build their business.
At SFM you have to be a paying member before they let you have any marketing materials this is another way that their business model feels a bit like an MLM.
Success is at the Top
There is no doubt that some people are making money thanks to SFM. It is just that many of them are the DEA Black members. To get to this level you need to shell out $20,000 plus all the lower fees on the way up.
It is a lot to have to pay with no guarantee of a return. I am sure that lots of people have parted with their cash and made little to no money back.
The thing is, affiliate marketing isn't really about what you invest, it is about the effort you put in and successfully applying the best techniques.
Six Figure Mentors: Scam or Legit?
Six Figure Mentors isn't an out and out scam as it has some legit content and some decent affiliate marketing courses.
But it doesn't offer very good value for money and is not the best way to start making money online.
I don't like the business model that The Six Figure Mentors program use where it is always necessary to work pay more to go up a level. I don't think their content is worth the high price and there are better places to look for high-quality affiliate marketing training and tools for building websites.
How I Make a Living Online…
Unfortunately, there are way too many online programs that are looking to make a quick buck out of people that want to earn a bit of money for themselves.
One of my main hopes with this site is that I can help steer a few people away from the scam sites to the few genuine opportunities that exist online.
And out of all of the good programs I've seen, the one I would recommend the most to anybody looking to get started online is Wealthy Affiliate. In my opinion, it's the best place to start.
At Wealthy Affiliate, you'll be provided with everything you need (including training & tools) to start earning real money by promoting products or services online. What's more, you can get started for FREE!
The best part is that there's no limit on the amount you can earn with it. The process is dead simple which makes it absolutely perfect for people just starting out.
It is the place that started me on a journey to earning 4 -figures per month. But I am just one of many that has grown an online income and some wealthy affiliates even earn as much as 5-figures per month… Or more!
Be warned though, it is not a get rich quick scheme. This is not the place to look for a big quick windfall. You have to put the effort in.
But the good thing is that the harder you work, the more you will earn.
So, if you are looking to get started and aren't sure what route to take, then check out Wealthy Affiliate as it is my top recommendation. You can learn more about it here.
You May Also Like
If you're looking for a totally legit way to make money online you should click the button below to discover how I've personally created a 4-Figure Monthly Passive Income Stream.