Welcome to my Super Affiliate Network Review. In this post, we will uncover whether The Super Affiliate Network lives up to the hype.
It is a program from the legendary internet marketer Misha Wilson who claims to be the youngest and fastest-growing traffic and conversion expert on the Internet.
There's no doubt that he has done well for himself, but is this your ticket to earning online riches as well? Is Super Affiliate Network legit or another online scam?
Keep reading to find out.
The Super Affiliate Network Review: Quick Summary
Product Name: The Super Affiliate Network
Founder: Founded by Misha Wilson in 2015
Product Type: Affiliate Marketing Training Course
Price: $37/month + UPSELLS up to $12,497
Best For: People that already have too much money
Summary: The Super Affiliate Network is a platform that offers thorough affiliate marketing training. It is mainly focused on Solo Ad, email marketing and promoting its own membership.
It has some HUGE upsells and features that err towards being a pyramid scheme.
Rating: 2/5
Recommended: No
There is a Better Option: If you're looking for a totally legit way to make money online you should click the button below to discover how I've personally created a 4-Figure Monthly Passive Income Stream.
What is The Super Affiliate Network?

The Super Affiliate Network is a platform that teaches affiliate marketing to anyone that is looking to set up a profitable online affiliate business.
Inside the platform, you get access to video training courses and a community of affiliate marketers.
The project has been launched by Misha Wilson who has made a multi-million-dollar fortune at a very young age through affiliate marketing online.
Clearly he knows his stuff and has a good background. Who wouldn't want to learn his secrets? Don't hit the subscribe button just yet though, read on to find out more about what you get for your money.
What do you get at Super Affiliate Network?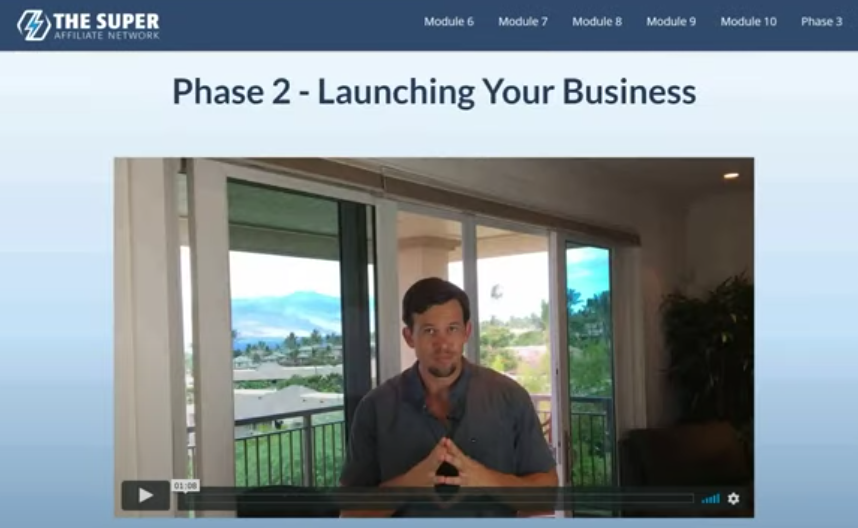 Basic membership to The Super Affiliate Network (SAN) costs $47 per month. The main focus of this membership is a 3 week Bootcamp that will teach you the basics of affiliate marketing.
There is some good stuff in the course, it covers things that you need to know like Mindset, Psychology, Email Marketing, List Building, Selling and Automation.
There are 21 different modules in the course, so if you do 1 per day you will get through it in the 3 weeks.
You will also be assigned a coach to help guide you through the process. Having access to someone with experience is definitely helpful to new website builders.
As you go through the course there are tests at the end of each module and you discuss the results with your coach before they let you move on to the next stage of the course.
I guess this helps to ensure you have understood what you have learnt but is a bit frustrating if you have time to press on to the next stage of the course.
There are More Costs…
As mentioned, the basic membership costs $47 per month, but you can reduce this to just $37 per month if you don't take advantage of the $1 trial. The basic membership doesn't cover everything though.
As soon as you have bought the basic membership you will be encouraged to buy the "Solo Ad Success Formula" and "Super Affiliate Monthly Newsletter".
There is a one-off charge of $97 for the in-depth email marketing course "Solo Ad Success Formula". Obviously they don't think the email marketing course that you get with the basic membership is enough to be successful. If you don't buy it straight away, it's $297.
To get the "Super Affiliate Monthly Newsletter" you have to pay $47 as a one time fee. The newsletter is a video update from Misha Wilson letting you know what he is up to and what strategies are currently working for him and how you could apply them to your business.
To gain access to more advanced training and support you will need to upgrade to the Pro Membership which costs a whopping $2,497. Yep, they hold back the good stuff until you have coughed up two and a half grand!!!
In this training, you will learn how to grow your business with marketing funnels, sales letters etc. You also get regular coaching sessions and access to a Facebook group.
The content is fine but look again at that price and decide for yourself if it is worth the high cost.
>> Click here to see where I learnt the same stuff way cheaper. No upsells. (You can start for FREE!)
The final training option is an intensive training course in Maui, Hawaii. It is an exclusive 4-day mastermind event where you get to work with Misha's team to help build your own marketing funnels etc.
The Maui intensive mentoring course will hold your hand through the process and it is no doubt good advice, but isn't this the sort of thing you should have already learnt from their courses?
Having a good mentor is a great idea for any business but paying so much for a couple of days doesn't seem like a good business move. You also get to snorkel with turtles and go whale watching.
It all sounds lovely. Did I mention the cost? $12,497 . That's not a typo. Twelve and a half thousand dollars!
Refund Policy
SAN have 30 days no questions asked refund policy for most of their products. They even offer some extra cash for 'wasting your time', but you will have to jump through some hoops to prove you have done the tasks and discuss it with your coaches.
It does seem like you can get a refund easily enough though which is a good thing to offer and shows the company backs its products and has some integrity.
You May Also Like
Super Affiliate Network Compensation Plan
The Super Affiliate Network runs a two-tier affiliate program, you can earn as much as 70% on any direct members you recruit and 5% on tier two recruits.
So suddenly, this sounds like an MLM or pyramid scheme, not an internet marketing platform.
What is worse is that to be eligible for commissions on any product, you have to have purchased the product yourself.
So, this is one of the reasons for all the expensive upsells, they sell them to you as you think you can get a tasty commission when you make an affiliate sale.
---
How I Learnt To Earn!
Learn to make a passive income every month! There is no secret formula, you just need to apply yourself using proven techniques.

Stop dreaming about it. You Can Change Your Life!
---
What's Good about Super Affiliate Network?
Pros
Try it out for $1: This is a pretty good offer. You can get your first month for $1, although if you do you end up paying more for the lifetime of your membership, so maybe it's not such a great deal.
30-Day Guarantee: If you are not happy with the program within 30 days, they'll refund you and even give you $100 for "wasting your time" (for the Basic Membership).
There are a bunch of conditions attached to this, but it is still a pretty good offer.
Detailed Step-by-Step Course: The course provides professionally recorded videos with good content that is clear and detailed. The course is well structured with tasks to complete along the way, and you get support from a coach.
Misha Wilson is Real: He's not a stock photo and this isn't a scam company. He has been insanely successful and the chance to learn from him is appealing.
What's Bad about Super Affiliate Network?
Cons
Is Super Affiliate Network a Pyramid Scheme?
There is quite a lot of decent training provided by SAN but the main focus is on helping its members to promote SAN membership and attract more recruits into the system.
The commission structure is multi-level so if you are a basic member you will only get a commission on new sign up as a basic member. If they sign up to Pro Mentorship through your affiliate link you don't get your cut.
This is a strategy to encourage people to upgrade their membership not based upon the value of the product but in the hope of getting bigger commissions. It's not quite a pyramid scheme but it does share some elements of one.
High-ticket membership products
Focus on promoting themselves
Need to pay expensive membership costs to qualify for commission
My top recommended platform, Wealthy Affiliate, can get started for free and you can build your own online business in any niche you want. You're not restricted to only promoting WA.
It is only Email Marketing (no website)
There is nothing wrong with the focus on Solo Ad and making affiliate sales by Email Marketing, these are legit methods that can make money.
But there is nothing about building niche websites or generating free organic traffic.
These are huge opportunities that are far cheaper than things like Solo Ad, and could be better options for newbies.
You Need Coach Approval to Continue
This is just kind of frustrating. You get to a certain point, are loving learning new skills and want to keep going, but you can't until you coach decides you have fully grasped the concepts.
I guess there is a logic behind it to make sure that you fully understand it but its a bit annoying if you ask me.
Expensive
The Basic Membership is not too expensive and you can have the $1 trial. But to access everything you have to pay a whole lot more. Pro Membership and Maui mentoring are really expensive.
I much prefer platforms that are honest upfront about costs and provide all their members with everything that they need for success – like this one which showed me how to generate a 4-Figure Monthly Passive Income (it is FREE to get started and if you upgrade only cost $49/month for everything)
Super Affiliate Network Review Final Thoughts
Is The Super Affiliate Network a Scam?
I don't think that it is a scam. There is some decent training involved and you could make money. I do think that it is a bit limiting that you only really learn how to promote SAN itself and the commission structure is a bit pyramidy for my liking. It is far better to focus your attention on learning real skills that can earn you serious money.
If you want to learn how to start an affiliate marketing business the proper way, try my top recommendation.
They will teach you everything that you need to know to build a successful online business and provide the best tools to help you do it. The training has helped me to build and run 4 websites (including this one) and I have built a 4 figure monthly income.
Click on the button below and join for free so you can earn money online too!!
If you're looking for a totally legit way to make money online you should click the button below to discover how I've personally created a 4-Figure Monthly Passive Income Stream.