Anyone that is looking for a way to make money online is sure to have heard of Super Affiliate System. There are ads all over the place and you may have sat down and watched the free webinar. It all sounds amazing, but is it too good to be true?
In this Super Affiliate System 3.0 Review, I will show you what you get for your money when you sign up to Super Affiliate System so that you can decide whether it is the right option for you.
Super Affiliate System 3.0 Review- Quick Summary
Name: Super Affiliate System 3.0

Owner: John Crestani

Website: SuperAffiliateSystem.com

Type: Affiliate Marketing training
Price: $997+
Rating: 3.5/5

Summary: Super Affiliate System 3.0 offers good affiliate marketing training that is suitable for beginners.
A focus on paid traffic means that quick results are possible and many users have success. What I don't like is the huge upfront cost to try it out, and some of the claims that are made do not stack up.
There is a Better Option: If you're looking for a totally legit way to make money online you should click the button below to discover how I've personally created a 4-Figure Monthly Passive Income Stream.
What is Super Affiliate System Pro?
Super Affiliate System is an online affiliate marketing training course that has been set up by John Crestani.
John is a bit of a legend in online money making circles and there is no doubt at all that he knows his stuff and has created a hugely successful business online.
He has made a few affiliate marketing courses, and you may have heard of Internet Jetset which was an earlier version of SAS before the rebrand.
In the Super Affiliate System, John teaches you all about the affiliate marketing process and how to get traffic using Google Ads, Facebook Ads, and YouTube Ads. The course is suitable for complete beginners with no prior knowledge of internet marketing or online business.
Super Affiliate System Training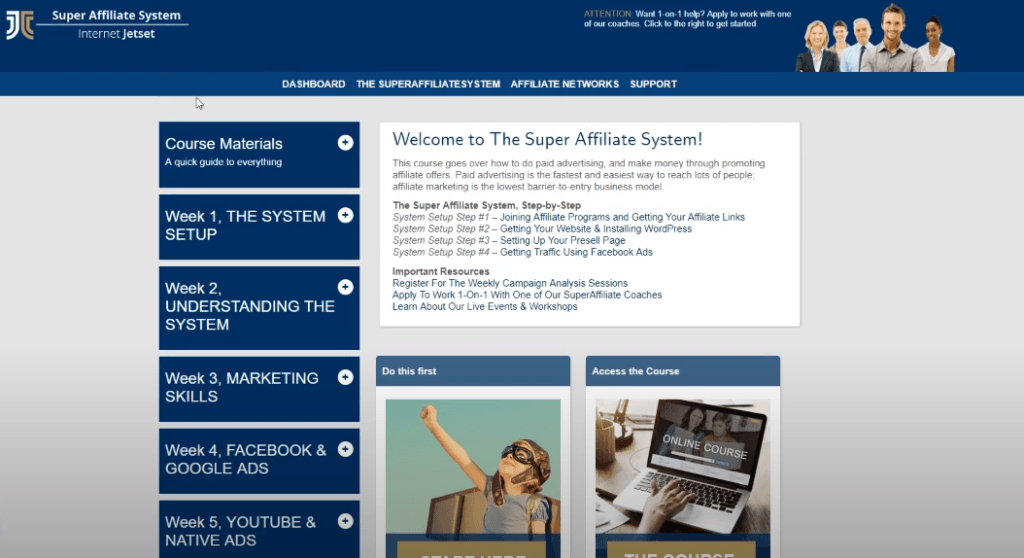 The Super Affiliate System offers six weeks of step by step lessons. These are designed to take you from being a complete newbie to being a money-making affiliate marketer.
The course costs $997 upfront to gain access to the training. There is also the option to pay by instalments which works out as a couple of hundred extra.
The process involves setting up ads on Google, Facebook or YouTube, that drive people to your landing page. You get these people to sign up to your email list and you then send them emails with affiliate links to the products you promoting. If they buy you earn a commission.
Week 1 – Getting Started
The first week introduces you to the world of affiliate marketing and the main network that you will be using, Clickbank. You will also set up your website hosting and domain name using Bluehost.
You will then learn 2 methods using John's pre-built funnels:
The Clickfunnels Method ($19/m via a share funnel account)
The Manual Method (free, but you need to access your host's file manager)
Week 2 -Google Ads
On your second week, you will learn all about using Google Ads to drive traffic. This is an area that John Crestani is clearly an expert and the module covers thing alike:
How to set up a keyword search based campaign
Location targeting
Device targeting
Ad split testing
It doesn't go into everything that you should know though things like keyword match type explanation (Broad Match, Broad Match Modified, Phrase, & Exact Match), Auto-bid vs. Manual Bidding settings, Negative keywords and Earning Per Click are not covered. I am not sure why, it feels like a more advanced module is needed.
Week 3 – YouTube Ads
This module walks you through exactly how to set up a YouTube ad campaign using the Google Ads platform (Google owns YouTube). It will also show you hope to start up your YouTube channel if you don't have one.
Week 4 – Facebook
This week you will learn about Facebook ads and ad compliance. There is also a section on copywriting taught by super affiliate Ronnie Sandlin who was once trained by John (Copywriting is writing with the intent of converting a reader into a lead or customer. This is a really important skill to have as an affiliate marketer). This part of the training is ok but could be more in-depth.
Week 5 – How to Presell
Week 5 sees you learning how to create awesome presell pages, and provides some templates to help you do this. This is a key part of the course and is nicely done covering things that you might not think of like how to split test pre-sell pages and other optimization tactics.
It is focused on using Clickfunnels and includes information on how to use Clickfunnel tracking ID's to tell you which pages are bringing in the best conversions.
Week 6 – Niches and Products
In the final week, John discusses ways to work in other niches rather than just selling the Super Affiliate marketing course itself (which was the focus/example used for the first 5 weeks). He looks at other niches like the classic, health, wealth and happiness niches.
There are some ideas of other affiliate networks that you can join besides Clickbank.
Resources
As well as the training course, you are provided with a some useful resources to get your business up and running.
Pre-Built Affiliate Funnels
Targeting Data
Affiliate Ad Swipes – proven copy for the platforms covered in the course
An Affiliate Network List (options other than Clickbank)
An Advertising Network List
Legal Resources in case you encounter Facebook or Google Ad policy violations
Course Archives in case you want to watch the old version of SAS
Super Affiliate System Pro Review: The Good Stuff
Super Affiliate System is not a total scam and has some things that I like about it.
Step by Step Affiliate Marketing Training
If you are looking to get into affiliate marketing then I recommend that you find step by step training to show you how to do it. Without clear guidance, you are likely to feel overwhelmed and give up. SAS does have clear video lessons from a proven expert.
You Can Start Earning Quickly
The method that John teaches is based upon using paid ads. This means that you could potentially start making money straight away, and some members have been successful in doing this.
Ready-Made Landing Pages & Swipe Copy
If you are new then being given expertly written landing page templates is a real bonus. They are no easy to get right so this is also something that will speed up your route to making money. You could argue that true training would teach you the skills to make your own but it is definitely helpful to have the ready-made ones.
30-Day Money-Back Guarantee
This is good to see as it shows they have confidence in their product. You od have to demonstrate that you have watched and followed all the training though so getting a refund isn't that straightforward.
Super Affiliate System Pro Review: The Bad Stuff
It's not all good though so here are the things that I am not so keen on.
The High Price
The upfront cost is $997 this is a huge amount of money to pay to try something out. There is no free trial or anything, you need to cough up and then jump through hoops trying to get your money back. $997 is the standard price but the sales page will tell you that it is $4985 with 80% off. A timer ticks down to pressure you into purchasing before the price 'goes up'.
Some would say this is good marketing I feel it is a bit misleading. Also, many of their affiliates use a link that takes you to a higher-priced option to pay in instalments. You may like to have that option but it is an extra $200, and the wording of the banner is pretty misleading in my opinion with the focus being on today's payment only.

On top of paying for the course, you will be recommended to spend $250 to start running Facebook Ads and use Clickfunnels software that costs $97 per month. You don't absolutely have to pay for these things but the methods that the course teaches rely on paying for ads and software.
Makes it Sound Easy
The sales page is full of video testimonials from successful people. I am sure that they are telling the truth (unlike some of the dodgy scam sites that I have seen). But I just feel that the overall impression that they give is that it is easy and success is more or less guaranteed once you hand over your cash for the training program.
Obviously, that isn't the case. Making money online is never easy and to be successful people always need to put the work in.
Only Paid Traffic Methods Taught
The course focuses solely on getting traffic by using paid advertising. This is good for making quick sales but bumps up the investment that is needed upfront. The course doesn't cover search engine optimisation (SEO) which is a great way to get free traffic to your website.
I feel that beginners are better off learning how to get traffic for free and honing their skills before investing thousands in courses and ads.
There is no doubt that John Crestani knows how to make money online, but to follow in his footsteps using this course, you are going to need pretty deep pockets, to begin with.
I would say that you need to be prepared to set aside $2000 for the course and enough ads to actually find out of it is working. Of course, there is no guaranteed that you will make any return on that investment.
Super Affiliate System Review – Final Thoughts
I hope that you have enjoyed reading my Super Affiliate System Pro review.
I have nothing against the Super Affiliates System and the contents of its course. It is a good program from an experienced internet marketer and you will learn a lot about the affiliate marketing business.
I just don't think that it is the best way to get started in affiliate marketing. Running an online business isn't for everyone and many people give up soon after they start. To be successful you need to keep at it when times are tough.
For these reasons I recommend anyone that is looking to learn about affiliate marketing to try this free course to see if you like it.
You will get step by step training to get started in affiliate marketing and can set even up your very own website for FREE!
Try it out with no risk. You don't need to worry about trying to get a refund because you haven't paid anything, and you don't even need to hand over your credit card details or worry about cancelling a free trial. You have nothing to lose!
Not convinced? Check out my full review here